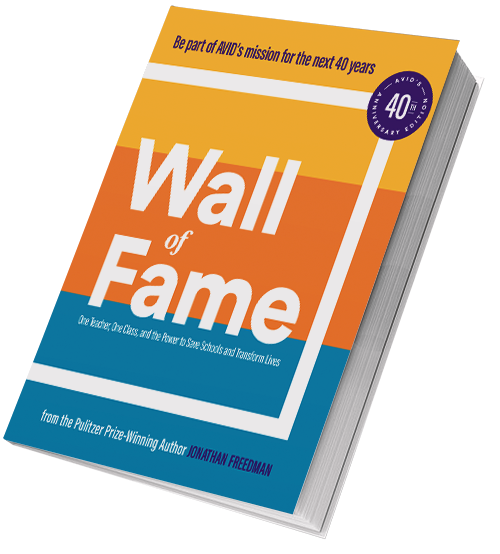 One Teacher, One Class Turned into a Movement to Bring Out the Potential of All Kids
What started as a highly intentional, passion-driven initiative of one teacher at Clairemont High in San Diego, California, in 1980, turned into a movement of over 300,000 teachers around the globe, impacting the lives of millions of students.
Discover the journey of this teacher, and the struggles and triumphs of the many students impacted by this movement, as told by the Pulitzer-Prize winning author Jonathan Freedman. Open your heart and mind to the vision and hard work of one teacher, combined with her grit and commitment to opening access to all her students to high-quality education. Witness the transformation of schools and so many lives over the course of the past four decades.
In this book, you will:
Learn from AVID CEO Sandy Husk how AVID has grown to 7,500 schools in 48 states (we're very excited to share her foreword)
Leverage chapters to both inspire and empower the students in your classroom (they will LOVE hearing how

others

conquered challenges)
Share this book with other AVID alumni whose lives were impacted by this movement (pay it forward by helping us spread the word)
Paperback ($16.95) and Kindle ($9.99) versions of Wall of Fame are available on Amazon!