AVID Selects New CEO, Thuan Nguyen, to Lead New Chapter of Innovation and Opportunity
AVID Honors CEO Sandy Husk for Eight Years of Leadership, Expansion and Success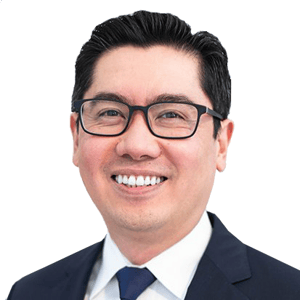 SAN DIEGO, CA. – Dec. 9, 2021 – AVID (Advancement Via Individual Determination), a nonprofit that partners with schools nationwide to ensure all students are prepared for life's possibilities with equitable opportunities, announced today its Board of Directors has named Thuan Nguyen to succeed Chief Executive Officer Sandy Husk.
AVID Vice Chair Eligio Pimentel made the announcement at AVID's 2021 National Conference. Nguyen, who currently serves as President and Chief Operating Officer, will assume his new role on April 1.
During Husk's successful eight-year tenure, AVID's impact doubled to more than two million students. Husk has led AVID with a commitment to transparency, inclusion and innovation. "I was a strong supporter of AVID when I was a superintendent of schools in three different states. As CEO, I am proud that AVID brought life-changing opportunities to more schools and more students. It has been a privilege to serve as CEO and I look forward to continuing to champion AVID, educators and students as I transition to an advisory role. I know that AVID is in strong hands."
"Sandy's leadership has brought significant progress to AVID. She's expanded our reach and impact in schools and she's deepened our organizational values. I'm so thankful for all she's helped our organization accomplish and I'm excited for the chapter ahead," said Pimentel.
Nguyen joined AVID as Executive Vice President in 2016, was promoted to Chief Operating Officer shortly after, and became President and Chief Operating Officer in February. His career has spanned from Assistant Superintendent and Chief Digital Strategy Officer for the Washington State Kent School District to founder of a successful education consulting business. He currently serves on the International Society for Technology in Education (ISTE) Board of Directors and has previously served on advisory boards of Cisco Systems, Adobe Systems, HP Systems, Absolute Software, and SchoolCIO.
Nguyen, a Vietnamese refugee who immigrated to the United States at eight years old, credits public education and educators for transforming his and his family's lives.
"I am humbled and honored to lead such a tremendous organization. There is no greater endeavor than public education and no greater mission than closing the opportunity gap. I believe every student can live a life of possibility and I know that by partnering with schools we can create thriving learning cultures that enable all students to dream big and succeed," said Nguyen.
"Teachers and schools are being asked to do more than ever before and I am committed to celebrating their great work and providing them with more resources, deeper support, and better data so that all students have tremendous opportunities."
"There is no one better than Thuan to lead us into the future and build on the impact AVID has had for more than 40 years," said Mary Catherine Swanson, AVID Founder and Board member. "Thuan understands education, what's needed to advance progress in the classroom, and how to open opportunities for students and support educators. He shares and drives AVID's commitment to continuously learning and improving. Most importantly, he understands from his lived experience the powerful role educators play in students' lives."
AVID Chair Nori Juba added: "AVID is at an exciting transition point. We've worked to close the opportunity gap in education for more than forty years, but the world is changing rapidly and the COVID-19 pandemic presented unrivaled challenges in the education system. AVID is in a unique position to help. One of the keys to AVID's success is that we reignite the spark in all educators and help create and spread the passion for the essential work they do. That is needed now more than ever. Thuan embodies that spirit to his core."
"Thuan is a visionary and talented leader, and I cannot imagine finding anyone better suited to be our next CEO. He's a brilliant strategist, a gifted technologist, and he knows school districts inside and out. Above all, he leads with a selfless heart. Selecting him as CEO was an obvious, easy and unanimous decision for the Board of Directors," said Juba.
AVID's mission is to close the opportunity gap by preparing all students for college readiness and success in a global society.